Application of confocal laser scanning microscopy in dendrochronology
Uporaba konfokalne laserske vrstične mikroskopije v dendrokronologiji
Angela Balzano

Klemen Novak

Miha Humar

Katarina Čufar
Keywords:
confocal laser scanning microscopy (CLSM), wood anatomy, wood identification, image analysis, dendrochronology, tree-rings, growth ring boundaries
Abstract
We used the Confocal Laser Scanning Microscope (CLSM) Olympus LEXT OLS5000 for non-destructive observation and image analysis of wood anatomy traits in growth layers of tree species from different climatic zones. In European beech (Fagus sylvatica), where tree rings can generally be recognised, we discuss the changes in tree-ring structure due to adverse effects (insect attacks). Growth layers in Mediterranean Aleppo pine (Pinus halepensis) from south-eastern Spain are not always annual and contain numerous intra-annual density fluctuations (IADFs). Ocote pine (Pinus oocarpa) growing at high elevation in Honduras showed growth layers with clear growth ring boundaries and IADFs. In both pines, CLSM allowed us to recognise and measure tracheid parameters to define density fluctuations. In tropical true mahogany (Swietenia macrophylla) from Venezuela and cedrela (Cedrela odorata) from Costa Rica, we studied the growth layers with variable dimensions of vessels demarcated by marginal axial parenchyma.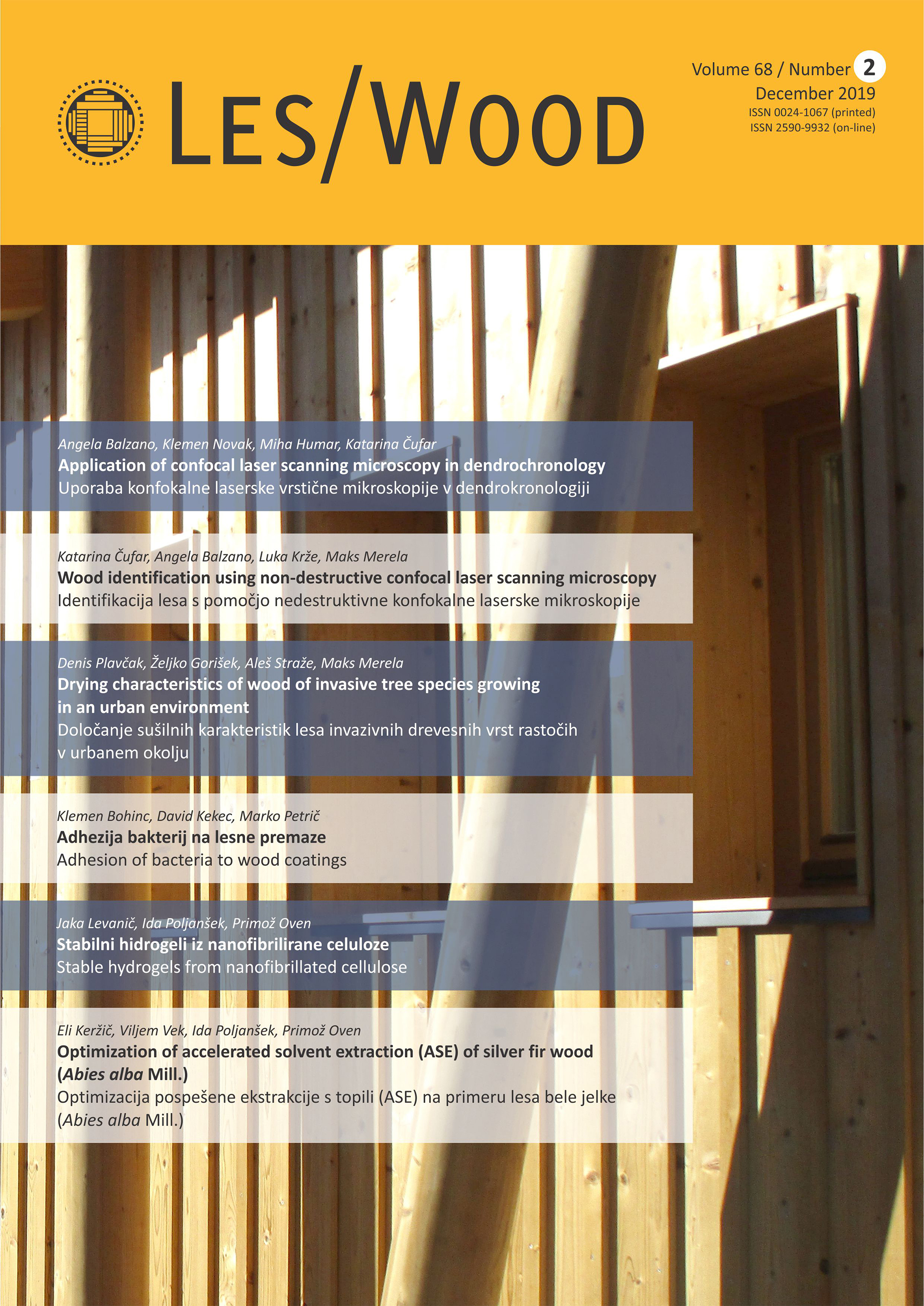 How to Cite
Balzano, A., Novak, K., Humar, M., & Čufar, K. (2019). Application of confocal laser scanning microscopy in dendrochronology. Les/Wood, 68(2), 5-17. https://doi.org/10.26614/les-wood.2019.v68n02a01
Copyright (c) 2019 Angela Balzano, Klemen Novak, Miha Humar, Katarina Čufar
This work is licensed under a Creative Commons Attribution-NonCommercial 4.0 International License.
Since 2017, Les/Wood has been publishing according to the diamond open access model, which means that all articles are available online to all users immediately after publication. Les/Wood is published under the license CC BY-NC 4.0.
Authors who publish in the journal Les/Wood agree to the following:
- authors retain copyrights and grant the journal Les/Wood the right of first publication with the work simultaneously licensed under a Creative Commons Attribution-NonCommercial 4.0 International License (CC BY-NC 4.0) that allows others to share the work with an acknowledgement of the work's authorship and initial publication in this journal.
- Everyone is free to copy and redistribute the material in any medium or format under the following terms: Non-commercial – you may not use the material for commercial purposes.
Prior to 2017, the sole copyright holder was the publisher: Zveza društev inženirjev in tehnikov gozdarstva in lesarstva Slovenije.