Resistance of polylactic acid/nanofibrillated cellulose composite to scratching
Odpornost kompozita na osnovi polimlečne kisline in nanofibrilirane celuloze proti razenju
Ida Poljanšek

Vesna Žepič

Urša Osolnik

Viljem Vek

Matjaž Pavlič

Marko Petrič

Primož Oven
Keywords:
nanofibrillated cellulose, PLA, bionanocomposite, transparency, resistance to scratching
Abstract
The aim of the study was to prepare a bionanocomposite based on polylactic acid (PLA) with the addition of nanofibrillated cellulose (NFC) as a reinforcement component. For the production of the composite we used unmodified and acetylated NFC (A_NFC). Freeze-dried NFC was acetylated in a heterogeneous system with acetic anhydride in dimethylformamide (DMF) in the presence of pyridine as a catalyst. The success of the acetylation was determined by FT-IR spectroscopy. PLA films were prepared with the addition of 2.5%, 5% and 10% of unmodified and acetylated NFC. The focus of this research was the impact of the NFC additive on the transparency and on the resistance of the bionanocomposite to scratching. The transparency of the bionanocomposite film was measured using UV-Vis spectrophotometry, and the resistance of the films to scratching was evaluated with a scratch test. The optimal amount of NFC and A_NFC added to the polymer PLA to achieve better resistance of the bionanocomposite to scratching was determined. The best resistance of the prepared bionanocomposite to scratching was achieved by the addition of a 2.5% A_NFC to the PLA polymer, which also has minimal reduced transparency with respect to the PLA film. With the highest addition of A_NFC to the PLA polymer, bionanocomposite films with minimal reduction of transparency were obtained.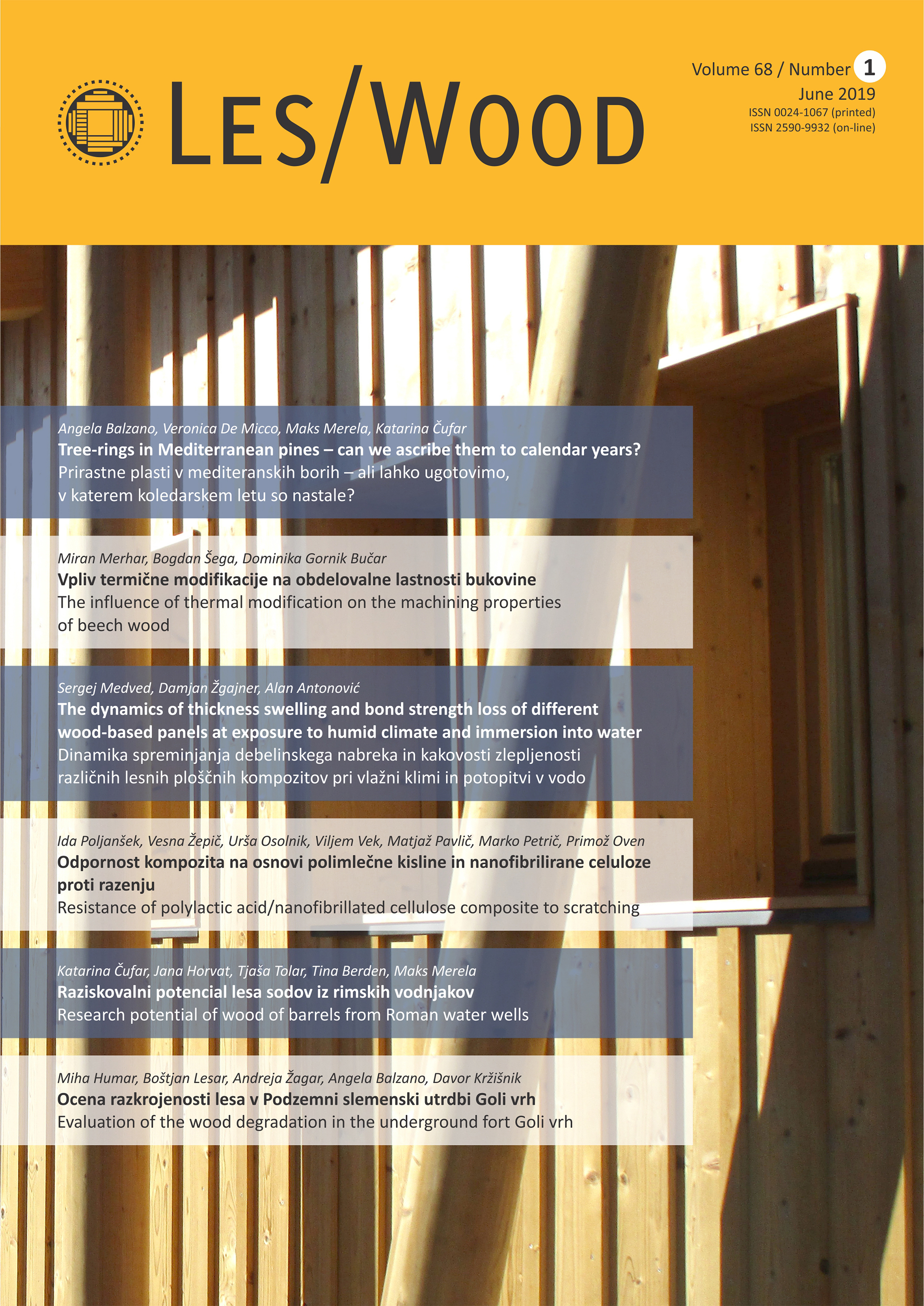 How to Cite
Poljanšek, I., Žepič, V., Osolnik, U., Vek, V., Pavlič, M., Petrič, M., & Oven, P. (2019). Resistance of polylactic acid/nanofibrillated cellulose composite to scratching. Les/Wood, 68(1), 37-45. https://doi.org/10.26614/les-wood.2019.v68n01a04
Since 2017, Les/Wood has been publishing according to the diamond open access model, which means that all articles are available online to all users immediately after publication. Les/Wood is published under the license CC BY-NC 4.0.
Authors who publish in the journal Les/Wood agree to the following:
- authors retain copyrights and grant the journal Les/Wood the right of first publication with the work simultaneously licensed under a Creative Commons Attribution-NonCommercial 4.0 International License (CC BY-NC 4.0) that allows others to share the work with an acknowledgement of the work's authorship and initial publication in this journal.
- Everyone is free to copy and redistribute the material in any medium or format under the following terms: Non-commercial – you may not use the material for commercial purposes.
Prior to 2017, the sole copyright holder was the publisher: Zveza društev inženirjev in tehnikov gozdarstva in lesarstva Slovenije.