The influence of thermal modification on the machining properties of beech wood
Vpliv termične modifikacije na obdelovalne lastnosti bukovine
Miran Merhar

Bogdan Šega

Dominika Gornik Bučar
Keywords:
thermal modification, beech wood, planing, routing, turning, surface quality
Abstract
The work analyses the influence of thermal modification on the machining properties of beech wood, where the quality of the surface is evaluated after the operation of planing, routing and turning of unmodified and modified beech. After machining, the surface is visually assessed with grades from 1 to 5, with respect to defects of raised, fuzzy and torn grain. As a result an average grade for each type of operation is given, as well as the percentage of each grade. It has been found out that the average grades of thermally modified beech wood in planing were better compared to unmodified beech, but ANOVA analysis did not confirm differences between them. There was also no difference in routing, while in turning the influence of modification was significant, since the surface quality of the thermally modified beech was significantly better compared to that of unmodified beech. From the analysis it can be concluded that thermal modification has a positive effect on the quality of the machined surface.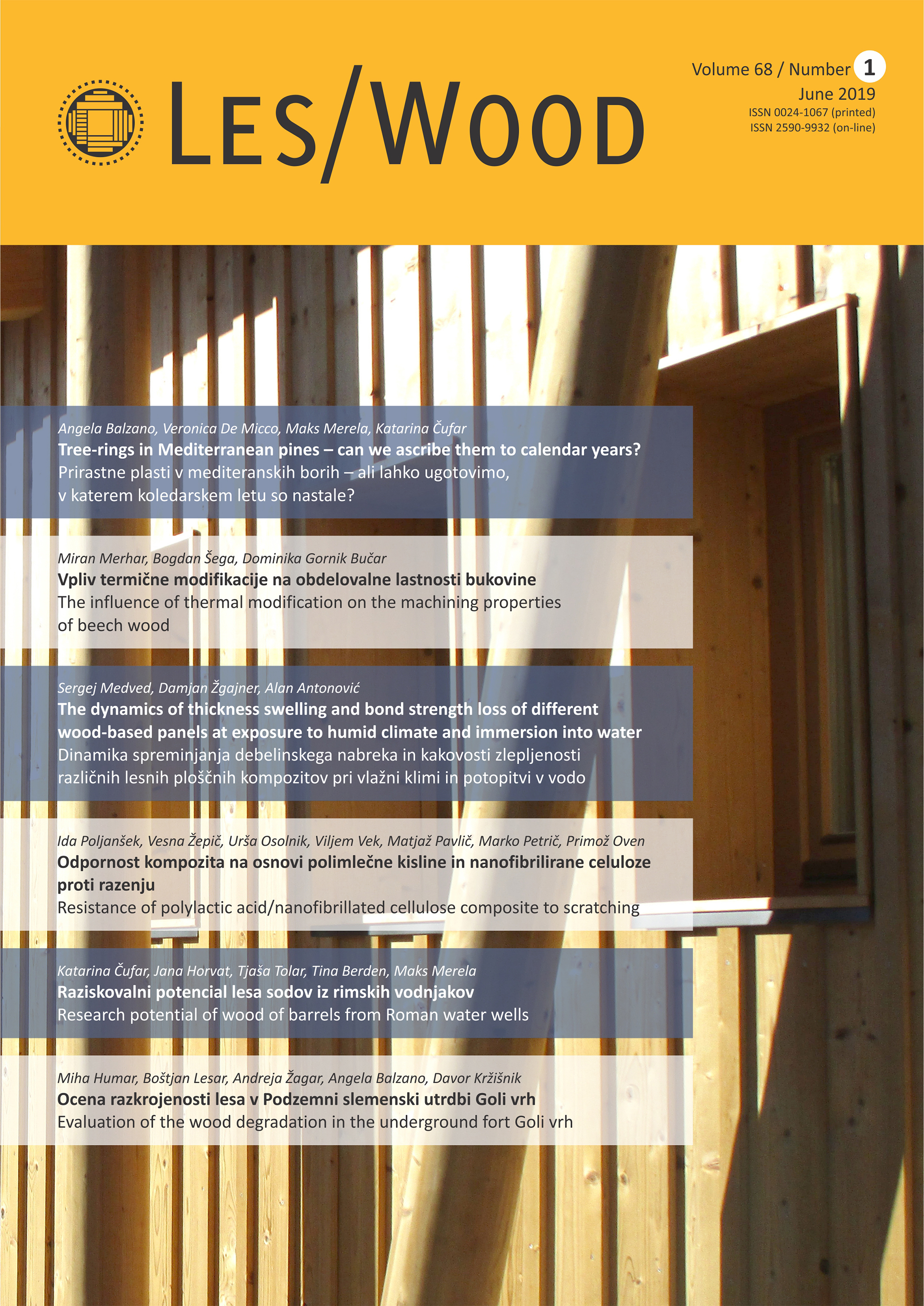 How to Cite
Merhar, M., Šega, B., & Gornik Bučar, D. (2019). The influence of thermal modification on the machining properties of beech wood. Les/Wood, 68(1), 15-24. https://doi.org/10.26614/les-wood.2019.v68n01a02
Since 2017, Les/Wood has been publishing according to the diamond open access model, which means that all articles are available online to all users immediately after publication. Les/Wood is published under the license CC BY-NC 4.0.
Authors who publish in the journal Les/Wood agree to the following:
- authors retain copyrights and grant the journal Les/Wood the right of first publication with the work simultaneously licensed under a Creative Commons Attribution-NonCommercial 4.0 International License (CC BY-NC 4.0) that allows others to share the work with an acknowledgement of the work's authorship and initial publication in this journal.
- Everyone is free to copy and redistribute the material in any medium or format under the following terms: Non-commercial – you may not use the material for commercial purposes.
Prior to 2017, the sole copyright holder was the publisher: Zveza društev inženirjev in tehnikov gozdarstva in lesarstva Slovenije.