Novice
News
Abstract
FORESDA – Na gozdu temelječe medsektorske vrednostne verige za pospeševanje inovacij in konkurenčnosti v Podonavju
Erika Valentinčič
In memoriam: prof. dr. Mirko Tratnik (1938 – 2018)
Leon Oblak
O prednostih in pasteh lesene gradnje na delavnici »Zaščita, vgradnja in uporaba lesa na prostem«
Tina Drolc
KOCles 2.0 - Kompetenčni center za razvoj kadrov v lesarstvu se kmalu izteče
Erika Valentinčič
Hrvaško lesarsko izrazoslovje v javno dostopni terminološki bazi STRUNA (http://struna.ihjj.hr/)
Vlatka Jirouš-Rajković
Strateška razvojno - inovacijska partnerstva kot vzvod za implementacijo strategije pametne specializacije Slovenije
Erika Valentinčič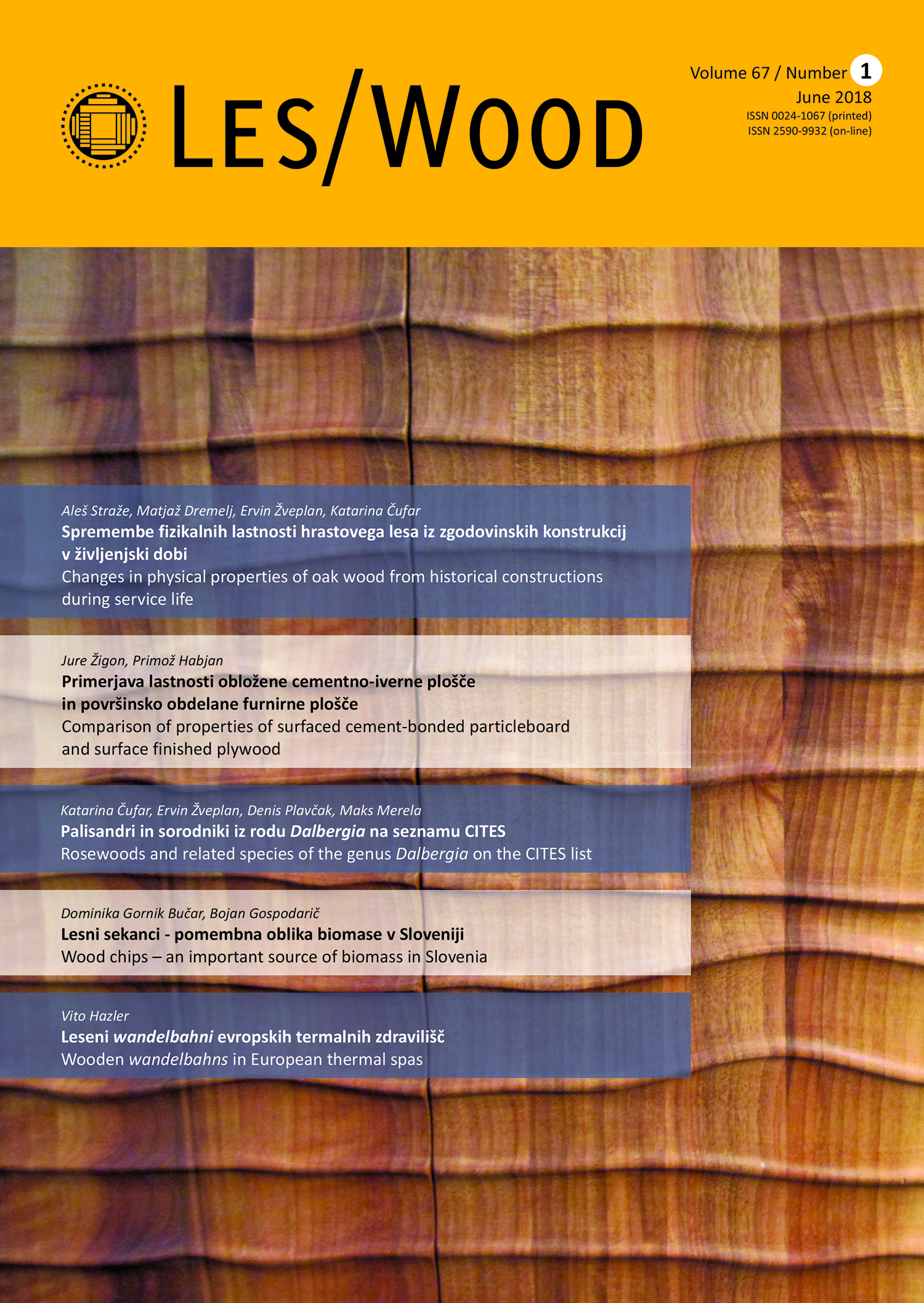 How to Cite
News, N. /. (2018). Novice. Les/Wood, 67(1), 69-76. Retrieved from https://www.les-wood.si/index.php/leswood/article/view/33
Since 2017, Les/Wood has been publishing according to the diamond open access model, which means that all articles are available online to all users immediately after publication. Les/Wood is published under the license CC BY-NC 4.0.
Authors who publish in the journal Les/Wood agree to the following:
- authors retain copyrights and grant the journal Les/Wood the right of first publication with the work simultaneously licensed under a Creative Commons Attribution-NonCommercial 4.0 International License (CC BY-NC 4.0) that allows others to share the work with an acknowledgement of the work's authorship and initial publication in this journal.
- Everyone is free to copy and redistribute the material in any medium or format under the following terms: Non-commercial – you may not use the material for commercial purposes.
Prior to 2017, the sole copyright holder was the publisher: Zveza društev inženirjev in tehnikov gozdarstva in lesarstva Slovenije.