Primerjava lastnosti obložene cementno-iverne plošče in površinsko obdelane furnirne plošče
Comparison of properties of surfaced cement-bonded particleboard and surface finished plywood
Jure Žigon

Primož Habljan
Keywords:
façade covering, wood-based composites, durability, artificial accelerated weathering
Abstract
In this study, we produced two types of claddings, representing the element of the ventilated façade. The first façade cladding was a cement-bonded particleboard, surfaced with a low-pressure laminate, while the second was a waterproof plywood board, coated with a stain-coating system. Both types of façade claddings were exposed to processes of artificial accelerated aging and temperature cycling tests, as well as to biotic factors, in order to simulate the conditions in real use. Changes in climatic conditions and other factors of the performed tests had a larger influence on the behaviour and properties of the surface finished plywood board. Both types of composites were not susceptible to infection with wood decay and blue-stain fungi. According to the results of the research, both types of claddings are suitable for the intended use as the outer element of a ventilated façade.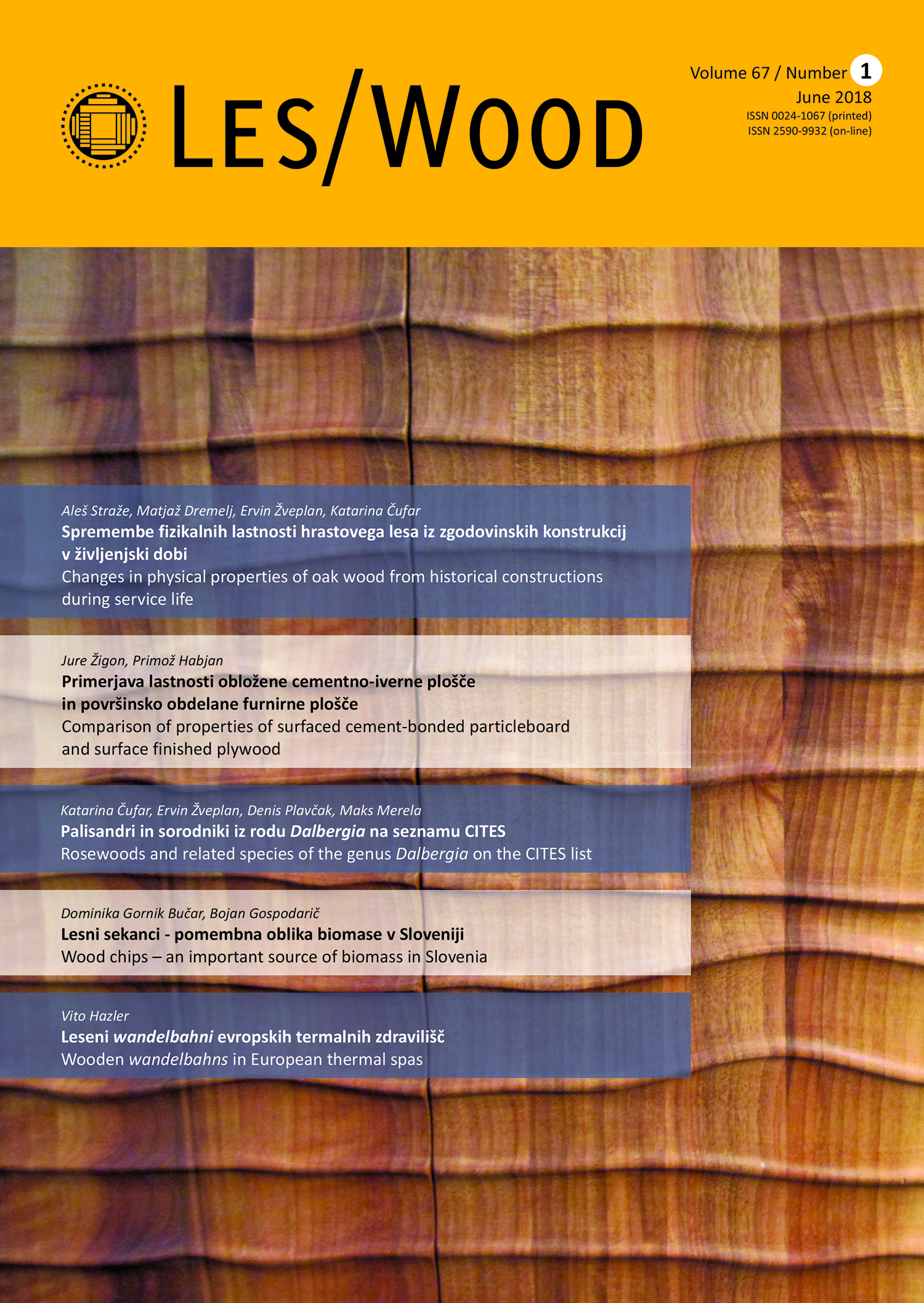 How to Cite
Žigon, J., & Habljan, P. (2018). Primerjava lastnosti obložene cementno-iverne plošče in površinsko obdelane furnirne plošče. Les/Wood, 67(1), 15-26. https://doi.org/10.26614/les-wood.2018.v67n01a02
Since 2017, Les/Wood has been publishing according to the diamond open access model, which means that all articles are available online to all users immediately after publication. Les/Wood is published under the license CC BY-NC 4.0.
Authors who publish in the journal Les/Wood agree to the following:
- authors retain copyrights and grant the journal Les/Wood the right of first publication with the work simultaneously licensed under a Creative Commons Attribution-NonCommercial 4.0 International License (CC BY-NC 4.0) that allows others to share the work with an acknowledgement of the work's authorship and initial publication in this journal.
- Everyone is free to copy and redistribute the material in any medium or format under the following terms: Non-commercial – you may not use the material for commercial purposes.
Prior to 2017, the sole copyright holder was the publisher: Zveza društev inženirjev in tehnikov gozdarstva in lesarstva Slovenije.