Spremembe fizikalnih lastnosti hrastovega lesa iz zgodovinskih konstrukcij v življenjski dobi
Changes in physical properties of oak wood from historical constructions during service life
Aleš Straže

Matjaž Dremelj

Ervin Žveplan

Katarina Čufar
Keywords:
wood, oak (Quercus sp.), ageing, colour, hygroscopicity, dimensional stability, sorption
Abstract
We examined the physical properties of oak wood (Quercus sp.) felled four to 512 years ago, grouped in age groups of 100-600 years. The wood originated from recently felled trees and from historical constructions in Slovenia. The selected wood was dendrochronologically dated. We made standardized samples and determined wood density, colour, dimensional stability and sorption properties. Visual and CIELab analyses showed that the colour of the heartwood became darker with age. Historical oak wood was characterised by lower hygroscopicity and higher dimensional stability, especially in the tangential direction, as well as reduced transverse shrinkage anisotropy compared to recently felled wood. The density of oak wood did not change with age, it was dependent on tree-ring widths and the proportion of latewood, and increased along with the proportion of latewood. Besides ageing, the location of wood during its service life and exposure to climate fluctuations also seemed to influence the dimensional stability and hygroscopicity of historical oak.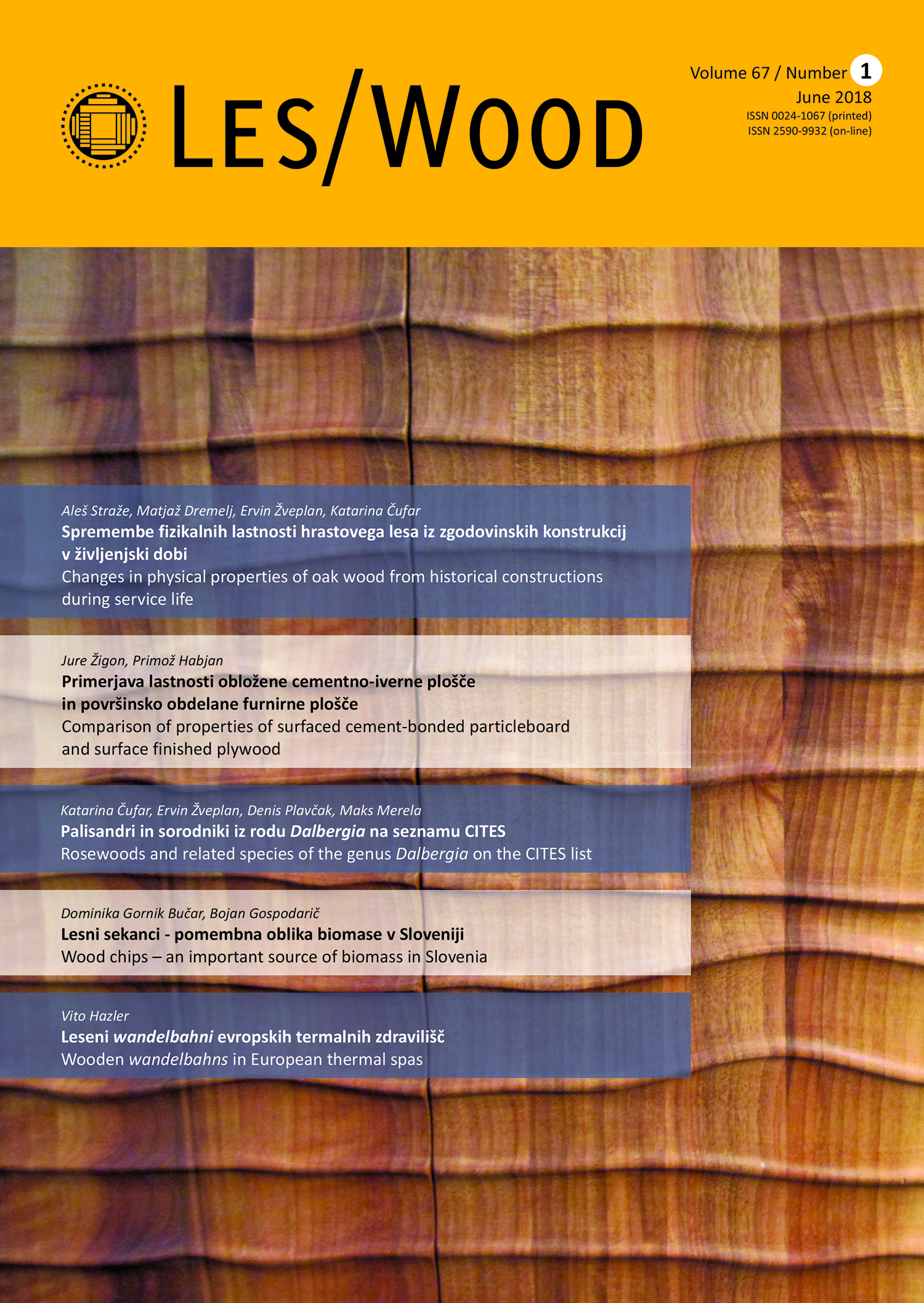 How to Cite
Straže, A., Dremelj, M., Žveplan, E., & Čufar, K. (2018). Spremembe fizikalnih lastnosti hrastovega lesa iz zgodovinskih konstrukcij v življenjski dobi. Les/Wood, 67(1), 5-14. https://doi.org/10.26614/les-wood.2018.v67n01a01
Since 2017, Les/Wood has been publishing according to the diamond open access model, which means that all articles are available online to all users immediately after publication. Les/Wood is published under the license CC BY-NC 4.0.
Authors who publish in the journal Les/Wood agree to the following:
- authors retain copyrights and grant the journal Les/Wood the right of first publication with the work simultaneously licensed under a Creative Commons Attribution-NonCommercial 4.0 International License (CC BY-NC 4.0) that allows others to share the work with an acknowledgement of the work's authorship and initial publication in this journal.
- Everyone is free to copy and redistribute the material in any medium or format under the following terms: Non-commercial – you may not use the material for commercial purposes.
Prior to 2017, the sole copyright holder was the publisher: Zveza društev inženirjev in tehnikov gozdarstva in lesarstva Slovenije.