Društvo inženirjev in tehnikov lesarstva Ljubljana se je preimenovalo v Društvo lesarjev Slovenije (DLS)
Abstract
Na Zboru članov 2016 Društva inženirjev in tehnikov lesarstva Ljubljana so člani prepoznali potrebo po posodobitvi imena in logotipa društva. Za spremembo imena Društva inženirjev in tehnikov lesarstva Ljubljana smo se odločili, ker je bilo staro ime omejujoče z vidika izobrazbe in geografsko. Pri spremembi imena nas je vodila ideja, da bi se lahko vsakdo, ki se ukvarja z lesom oziroma deluje v lesarstvu, videl tudi kot član našega društva. Naše društvo je najbolj aktivno lesarsko društvo v Sloveniji. Člani in podporniki društva prihajajo iz vseh koncev Slovenije in ne zgolj iz osrednje Slovenije. Ime društva so izbirali člani v dveh krogih spletnega glasovanja in izbrali Društvo lesarjev Slovenije. Vsi, ki se na kakršenkoli način ukvarjate z lesom, vabljeni, da se včlanite. Vse informacije najdete na spletni strani www.ditles.si.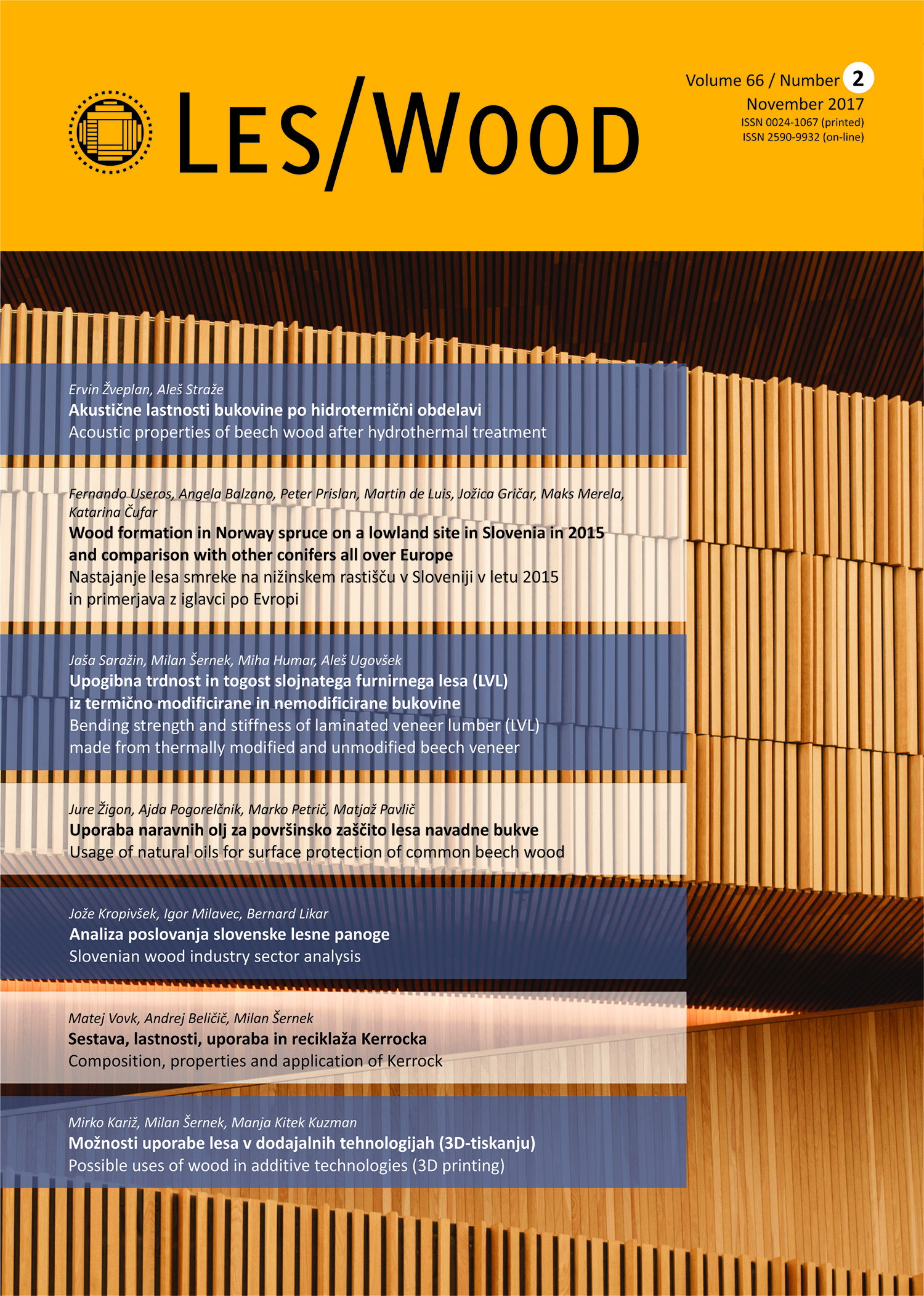 How to Cite
Lesar, B. (2017). Društvo inženirjev in tehnikov lesarstva Ljubljana se je preimenovalo v Društvo lesarjev Slovenije (DLS). Les/Wood, 66(2), 87. Retrieved from https://www.les-wood.si/index.php/leswood/article/view/23
Since 2017, Les/Wood has been publishing according to the diamond open access model, which means that all articles are available online to all users immediately after publication. Les/Wood is published under the license CC BY-NC 4.0.
Authors who publish in the journal Les/Wood agree to the following:
- authors retain copyrights and grant the journal Les/Wood the right of first publication with the work simultaneously licensed under a Creative Commons Attribution-NonCommercial 4.0 International License (CC BY-NC 4.0) that allows others to share the work with an acknowledgement of the work's authorship and initial publication in this journal.
- Everyone is free to copy and redistribute the material in any medium or format under the following terms: Non-commercial – you may not use the material for commercial purposes.
Prior to 2017, the sole copyright holder was the publisher: Zveza društev inženirjev in tehnikov gozdarstva in lesarstva Slovenije.