Možnosti uporabe lesa v dodajalnih tehnologijah (3D-tiskanju)
Possible uses of wood in additive technologies (3D printing)
Mirko Kariž

Milan Šernek

Manja Kitek Kuzman
Keywords:
3D printing, additive technology, wood, wood residues, wood-plastic composites
Abstract
Additive manufacturing technologies have developed greatly over the last decade in terms of technology and printing materials. Special emphasis is placed on the development of cheaper materials that are derived from natural sources, without the release of harmful substances during the manufacturing process, with the possibility of using waste materials and recycling after service life. Wood or wood residues are among the potential raw materials that could be used for 3D printing in combinations with natural and synthetic polymers. It is anticipated that, with the development of additive technologies, the use of wood will also expand to the area of structural elements, such as in the construction of prefabricated houses. A review of publications on the topic of 3D printing with natural raw materials with an emphasis on wood biomass and technologies, where the use of wood particles is possible, was made.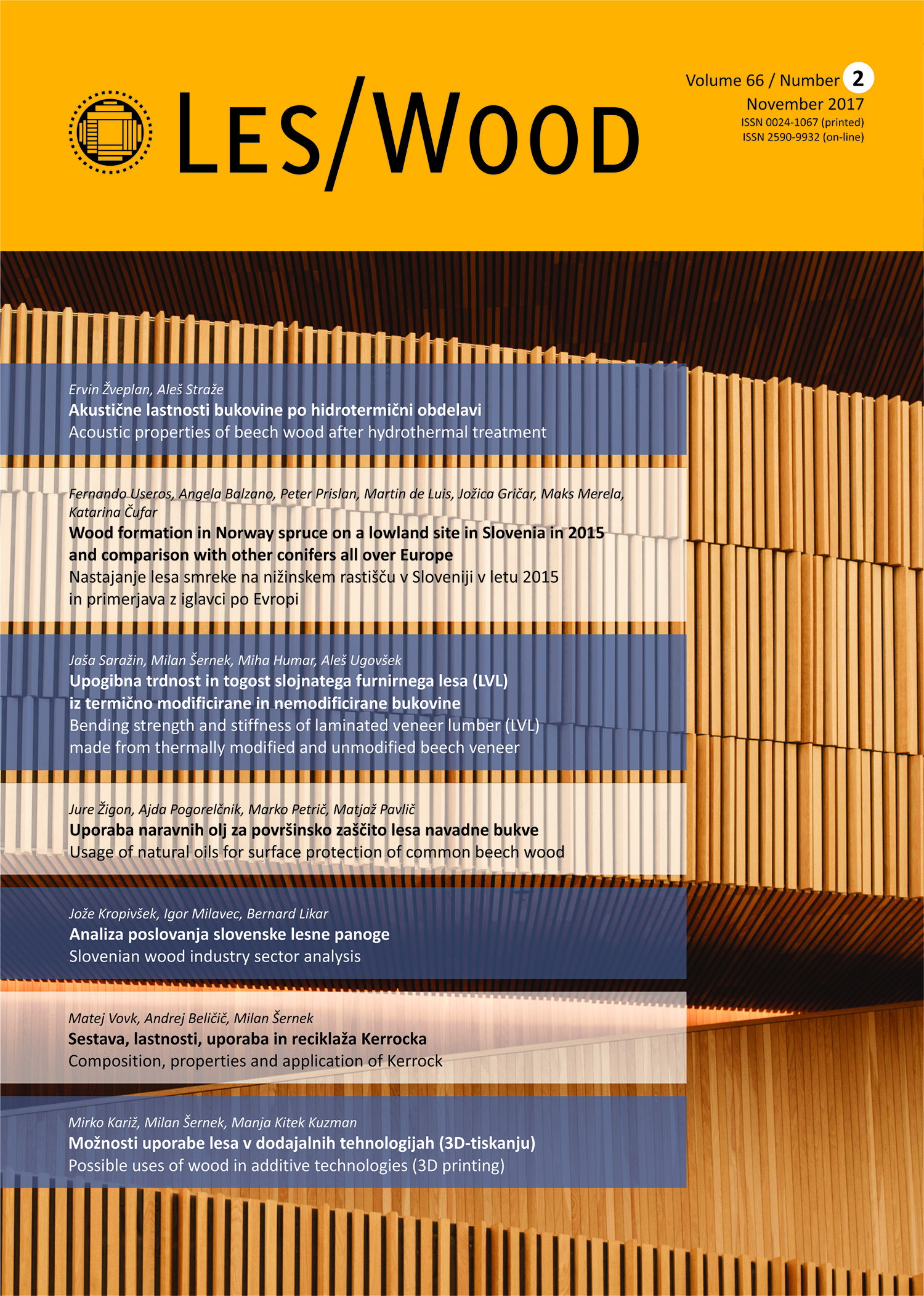 How to Cite
Kariž, M., Šernek, M., & Kitek Kuzman, M. (2017). Možnosti uporabe lesa v dodajalnih tehnologijah (3D-tiskanju). Les/Wood, 66(2), 71-84. https://doi.org/10.26614/les-wood.2017.v66n02a07
Since 2017, Les/Wood has been publishing according to the diamond open access model, which means that all articles are available online to all users immediately after publication. Les/Wood is published under the license CC BY-NC 4.0.
Authors who publish in the journal Les/Wood agree to the following:
- authors retain copyrights and grant the journal Les/Wood the right of first publication with the work simultaneously licensed under a Creative Commons Attribution-NonCommercial 4.0 International License (CC BY-NC 4.0) that allows others to share the work with an acknowledgement of the work's authorship and initial publication in this journal.
- Everyone is free to copy and redistribute the material in any medium or format under the following terms: Non-commercial – you may not use the material for commercial purposes.
Prior to 2017, the sole copyright holder was the publisher: Zveza društev inženirjev in tehnikov gozdarstva in lesarstva Slovenije.