Sestava, lastnosti, uporaba in reciklaža Kerrocka
Composition, properties and application of Kerrock
Matej Vovk

Andrej Beličič

Milan Šernek
Keywords:
Kerrock, composite, ATH, PMMA, PMMA/ATH, silane, recycling
Abstract
Kerrock is a solid surface composite material, which is composed of 40 wt.% of polymethylmethacrylate (PMMA) and 60 wt.% of aluminium trihydroxide (ATH) filler with silane as a coupling agent. Similar material is also called PMMA/ATH composite in the academic literature, while Kerrock is one of its commercial names. PMMA is a hard material that is water- and UV-resistant and easy to work with, although its characteristics depend on the degree and process of polymerization that occurs. ATH is a white, nontoxic material that is relatively soft and non-abrasive. It is widely used as an effective fire-retardant filler in polymer composites. Because of its composition, the machining of Kerrock is similar to the machining of wood. Moreover, it can also be thermoformed, like thermoplastics. Kerrock is widely used for work surfaces and cladding, with both indoor and outdoor applications. The material's interfacial morphology, interfacial adhesion between the filler and polymer matrix, dispersion of ATH particles and concentration of adhesion promoting agent have the biggest impacts on the mechanical characteristics of Kerrock. While it is possible to chemically recycle Kerrock, the energy required for this is too high for this process to be practical. Another option for recycling this composite is to combine its particles in a hot press or to add MMA or polyester resin before pressing. However, there remains much work to be done with regard to effectively recycling Kerrock.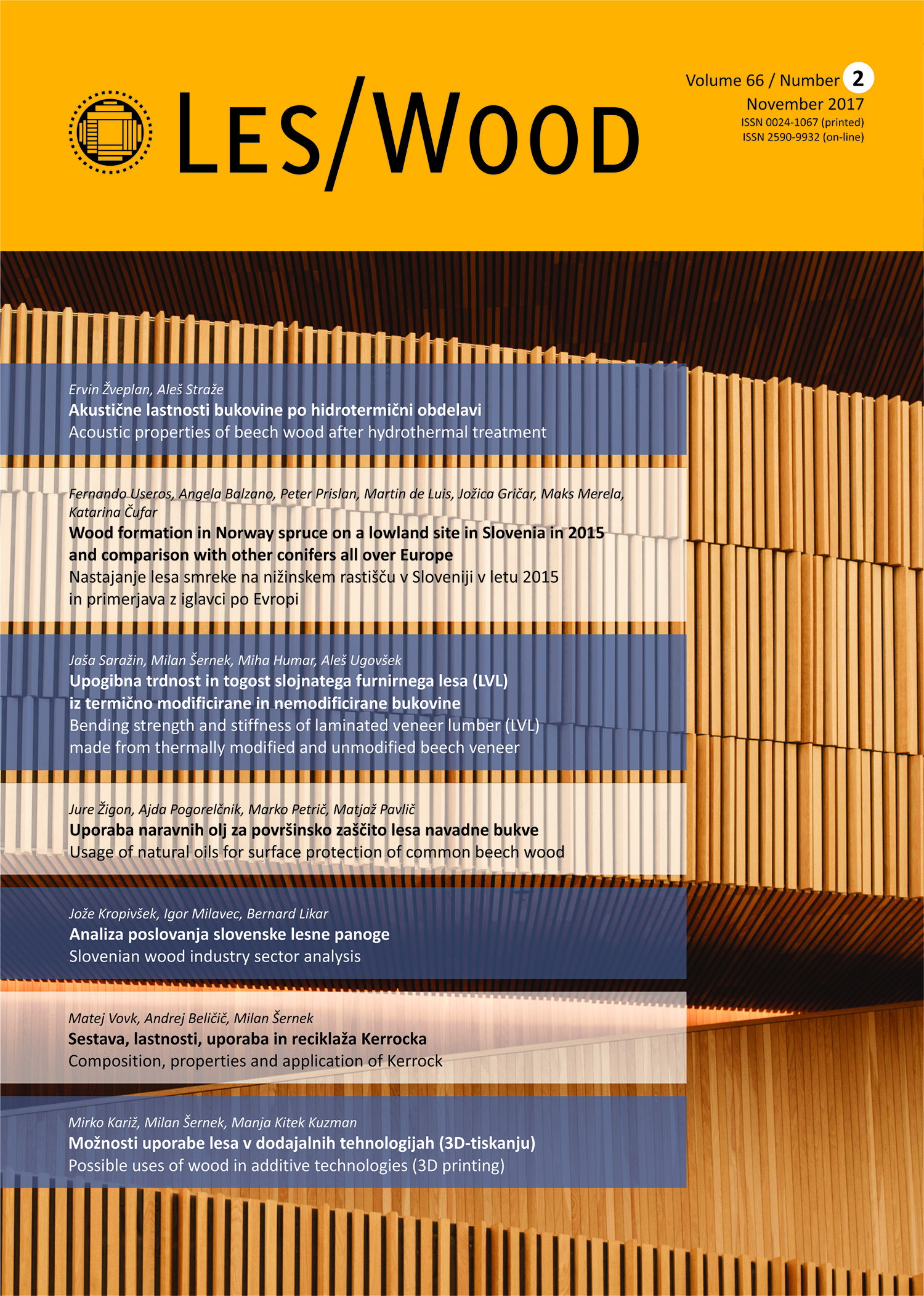 How to Cite
Vovk, M., Beličič, A., & Šernek, M. (2017). Sestava, lastnosti, uporaba in reciklaža Kerrocka. Les/Wood, 66(2), 57-69. https://doi.org/10.26614/les-wood.2017.v66n02a06
Since 2017, Les/Wood has been publishing according to the diamond open access model, which means that all articles are available online to all users immediately after publication. Les/Wood is published under the license CC BY-NC 4.0.
Authors who publish in the journal Les/Wood agree to the following:
- authors retain copyrights and grant the journal Les/Wood the right of first publication with the work simultaneously licensed under a Creative Commons Attribution-NonCommercial 4.0 International License (CC BY-NC 4.0) that allows others to share the work with an acknowledgement of the work's authorship and initial publication in this journal.
- Everyone is free to copy and redistribute the material in any medium or format under the following terms: Non-commercial – you may not use the material for commercial purposes.
Prior to 2017, the sole copyright holder was the publisher: Zveza društev inženirjev in tehnikov gozdarstva in lesarstva Slovenije.