Analiza poslovanja slovenske lesne panoge
Slovenian wood industry sector analysis
Jože Kropivšek

Igor Milavec

Bernard Likar
Keywords:
sector analysis, financial indicators, SWOT, wood-industry, Slovenia
Abstract
The sector, which plays a strategically important role within the economy, is subjected to numerous economic measures that influence its long-term development. The purpose of this article is to analyse the situation in the Slovenian wood industry and evaluate its position in the economy and its development in the last few years. The results of qualitative and quantitative analyses show improvements in a number of key financial indicators in the sector, as well as its qualitative situation in the context of Slovenia's overall economic and political scene. Turnover, number of employees, added value and some other key performance indicators have all increased recently. The growth of the sector has a positive effect on public perceptions of it, which then influences the developmental and investment potential of the industry, with positive impacts on employment and further investment in research. Such growth also helps companies enhance their networking both inside and outside the sector. Overall, companies should continue with their efforts to introduce the latest production and information technologies as part of the transition to an Industry 4.0 model, while also updating of their business models.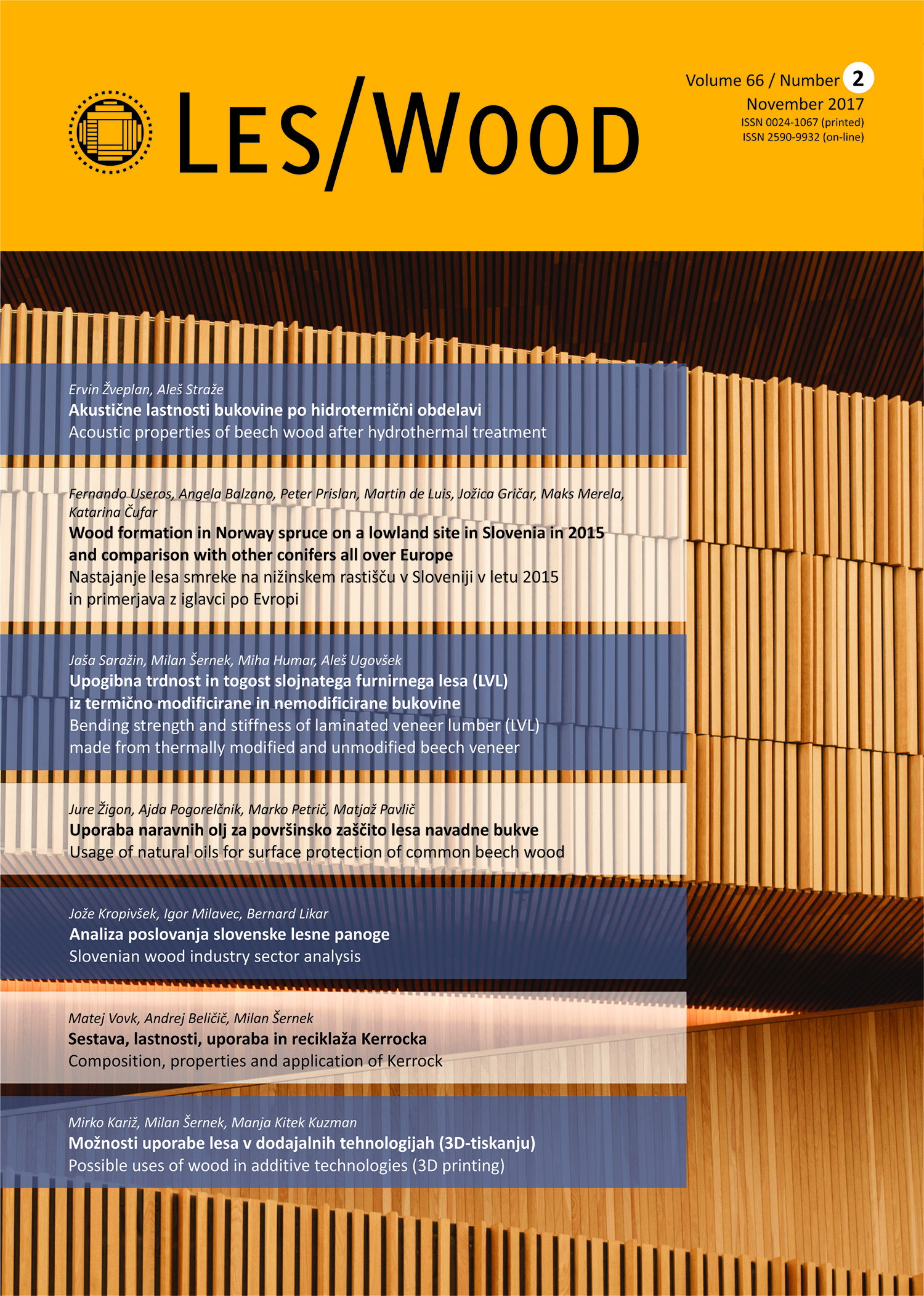 How to Cite
Kropivšek, J., Milavec, I., & Likar, B. (2017). Analiza poslovanja slovenske lesne panoge. Les/Wood, 66(2), 47-56. https://doi.org/10.26614/les-wood.2017.v66n02a05
Since 2017, Les/Wood has been publishing according to the diamond open access model, which means that all articles are available online to all users immediately after publication. Les/Wood is published under the license CC BY-NC 4.0.
Authors who publish in the journal Les/Wood agree to the following:
- authors retain copyrights and grant the journal Les/Wood the right of first publication with the work simultaneously licensed under a Creative Commons Attribution-NonCommercial 4.0 International License (CC BY-NC 4.0) that allows others to share the work with an acknowledgement of the work's authorship and initial publication in this journal.
- Everyone is free to copy and redistribute the material in any medium or format under the following terms: Non-commercial – you may not use the material for commercial purposes.
Prior to 2017, the sole copyright holder was the publisher: Zveza društev inženirjev in tehnikov gozdarstva in lesarstva Slovenije.