Uporaba naravnih olj za površinsko zaščito lesa navadne bukve
Usage of natural oils for surface protection of common beech wood
Jure Žigon

Ajda Pogorelčnik

Marko Petrič

Matjaž Pavlič
Keywords:
Fagus sylvatica, natural drying oils, properties, tensiometer, wettability
Abstract
Different natural drying oils were used for surface finishing of common beech wood (Fagus sylvatica L.). Surface performances and properties of the oiled surfaces were investigated according to the standard tests. Drying time, colour and gloss changes, uptake of oils into wood and uptake of liquid water into oiled wood, were determined, and the wettability of oiled wood surfaces was investigated by determination of the apparent contact angles of water. The results of the standard resistance tests showed that tung oil, the commercial decking and linseed oil had the best water repellent and protective properties. Worse properties were determined for those surfaces finished with walnut, hemp and coconut oils.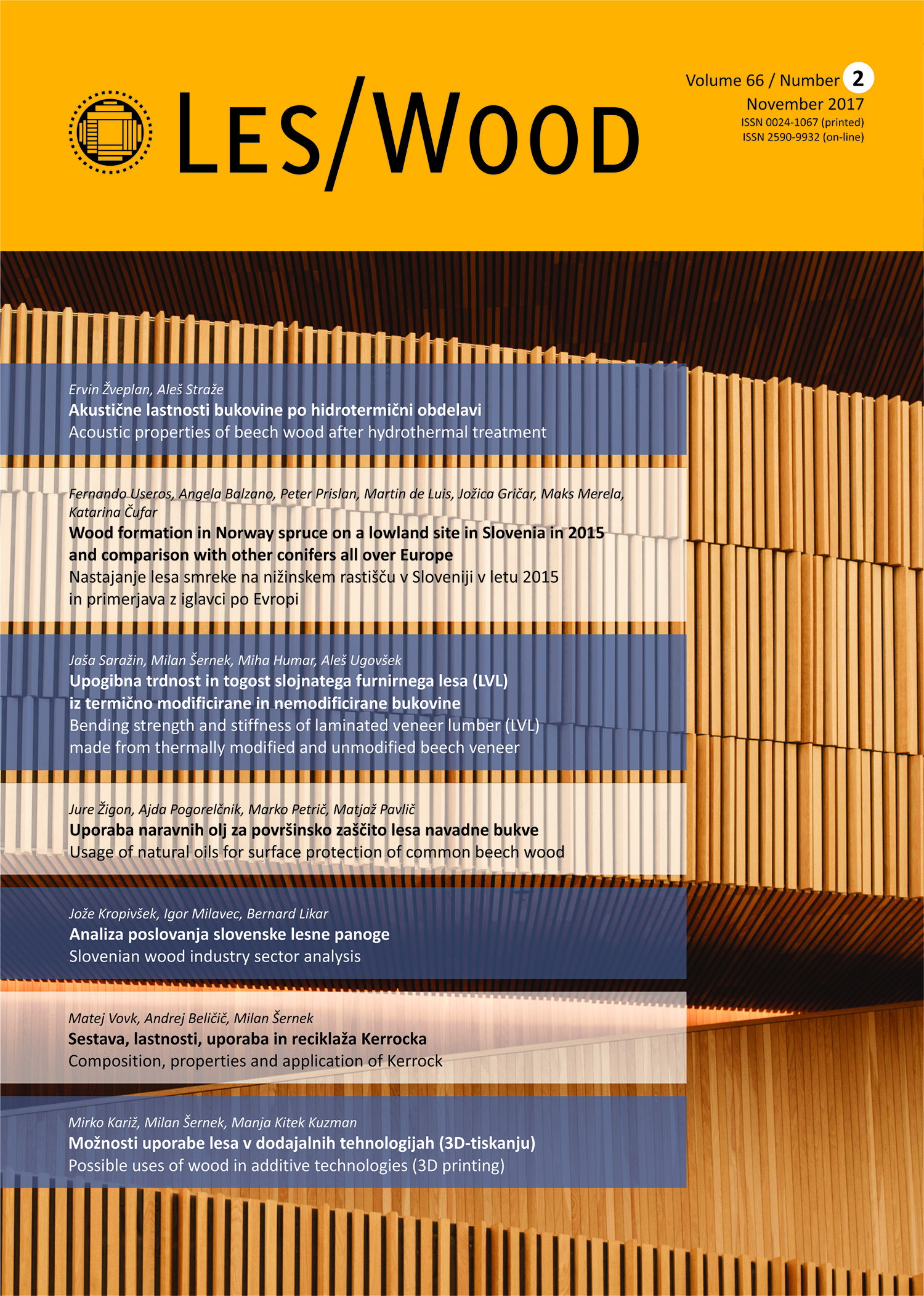 How to Cite
Žigon, J., Pogorelčnik, A., Petrič, M., & Pavlič, M. (2017). Uporaba naravnih olj za površinsko zaščito lesa navadne bukve. Les/Wood, 66(2), 37-46. https://doi.org/10.26614/les-wood.2017.v66n02a04
Since 2017, Les/Wood has been publishing according to the diamond open access model, which means that all articles are available online to all users immediately after publication. Les/Wood is published under the license CC BY-NC 4.0.
Authors who publish in the journal Les/Wood agree to the following:
- authors retain copyrights and grant the journal Les/Wood the right of first publication with the work simultaneously licensed under a Creative Commons Attribution-NonCommercial 4.0 International License (CC BY-NC 4.0) that allows others to share the work with an acknowledgement of the work's authorship and initial publication in this journal.
- Everyone is free to copy and redistribute the material in any medium or format under the following terms: Non-commercial – you may not use the material for commercial purposes.
Prior to 2017, the sole copyright holder was the publisher: Zveza društev inženirjev in tehnikov gozdarstva in lesarstva Slovenije.