Upogibna trdnost in togost slojnatega furnirnega lesa (LVL) iz termično modificirane in nemodificirane bukovine
Bending strength and stiffness of laminated veneer lumber (LVL) made from thermally modified and unmodified beech veneer
Jaša Saražin

Milan Šernek

Miha Humar

Aleš Ugovšek
Keywords:
beech, veneer, LVL, modulus of elasticity, thermal modification, bending strength
Abstract
The aim of the research was to define and develop a wooden composite with a thin cross-section and which could be used as reinforcement material in oversized wooden window profiles. An additional limitation was to bond the composite at room temperature. Based on a review of the literature, laminated veneer lumber (LVL) was chosen as the best option. The researched LVL samples were made of 0.5 mm thick, cut, beech (Fagus sylvatica L.) veneer, bonded with polyurethane adhesive (Purbond HB 440). Half of the samples were made of thermally modified veneers, and other half of unmodified. Bending strength and stiffness were determined with a three-point bending test. Thermally modified samples had on average 19 % lower bending strength compared to the unmodified samples, but the modulus of elasticity (stiffness) did not change significantly. The bending strength of up to 150 MPa was satisfactory, but the modulus of elasticity of 13 GPa was far below expectations. This is attributed to the selection of too thin veneer and too low bonding temperature, which does not enable densification of the composite.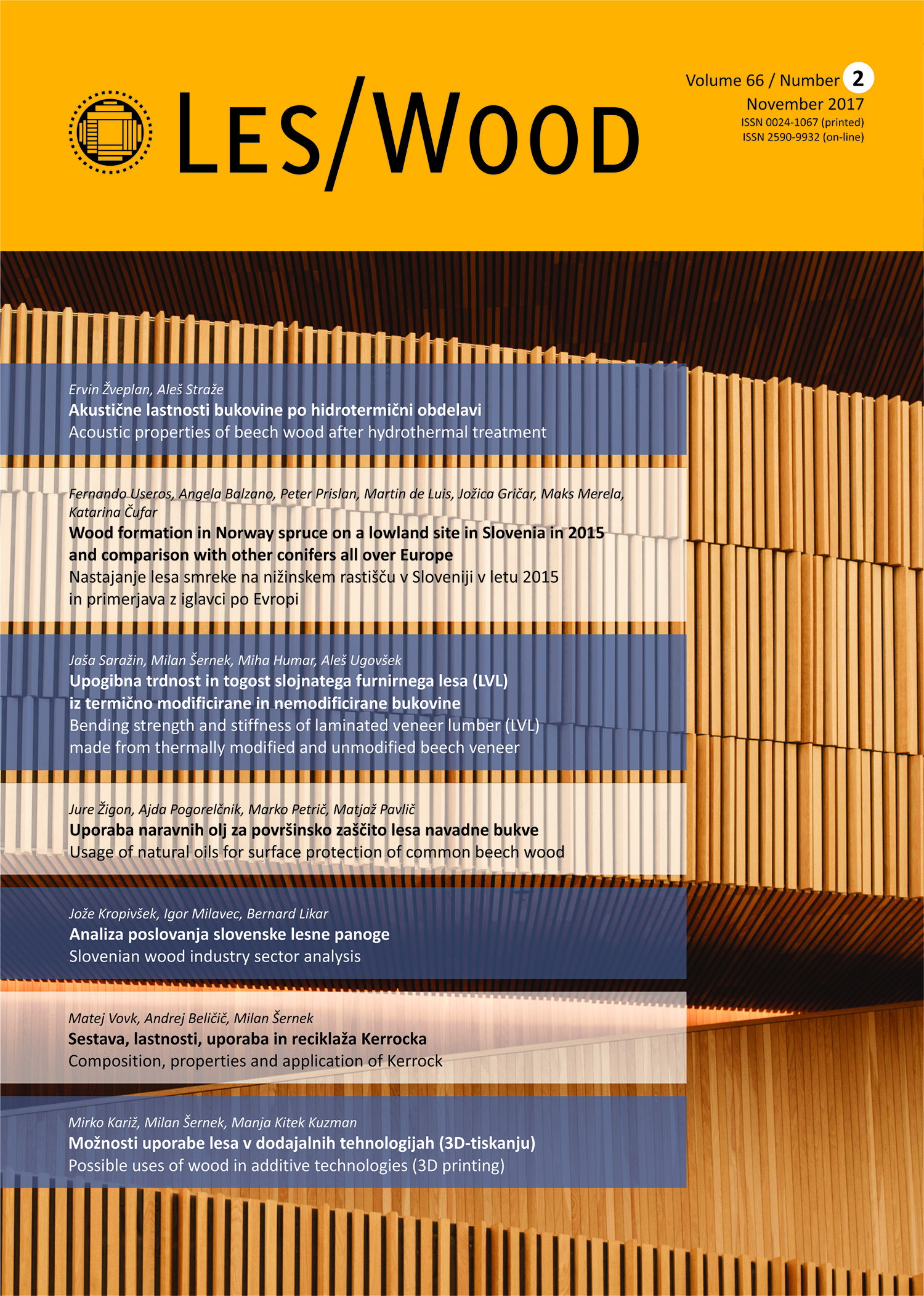 How to Cite
Saražin, J., Šernek, M., Humar, M., & Ugovšek, A. (2017). Upogibna trdnost in togost slojnatega furnirnega lesa (LVL) iz termično modificirane in nemodificirane bukovine. Les/Wood, 66(2), 29-36. https://doi.org/10.26614/les-wood.2017.v66n02a03
Since 2017, Les/Wood has been publishing according to the diamond open access model, which means that all articles are available online to all users immediately after publication. Les/Wood is published under the license CC BY-NC 4.0.
Authors who publish in the journal Les/Wood agree to the following:
- authors retain copyrights and grant the journal Les/Wood the right of first publication with the work simultaneously licensed under a Creative Commons Attribution-NonCommercial 4.0 International License (CC BY-NC 4.0) that allows others to share the work with an acknowledgement of the work's authorship and initial publication in this journal.
- Everyone is free to copy and redistribute the material in any medium or format under the following terms: Non-commercial – you may not use the material for commercial purposes.
Prior to 2017, the sole copyright holder was the publisher: Zveza društev inženirjev in tehnikov gozdarstva in lesarstva Slovenije.