Wood formation in Norway spruce on a lowland site in Slovenia in 2015 and comparison with other conifers all over Europe
Nastajanje lesa smreke na nižinskem rastišču v Sloveniji v letu 2015 in primerjava z iglavci po Evropi
Fernando Useros

Angela Balzano

Peter Prislan

Martin de Luis

Jožica Gričar

Maks Merela

Katarina Čufar
Keywords:
Norway spruce (Picea abies (L.) Karst.), phenology, cambium, xylogenesis, model, conifers, Europe
Abstract
We present xylem formation in Norway spruce (Picea abies (L.) Karst.) in 2015 at Panška reka, near Ljubljana, Slovenia (ca. 46°00'N, 14°40'E, 400 m a.s.l.) with a temperate climate. The research was a part of a long-term project, which involves different sites and tree species. We measured the widths of cambium and the formation of xylem growth rings with differentiating cells in postcambial (PC) and secondary wall formation (SW) phases, and mature cells (MT). The results for 2015 were compared with those for previous years (2009–2011) in the same species and site, and with the published data from wood formation studies in conifers from all over Europe. The latter were used in two-factor regression models which confirmed the effects of latitude and altitude on the critical dates of onset, end, and duration of xylem production. The models thus helped us to predict/reconstruct phenology of wood formation in conifers in Europe.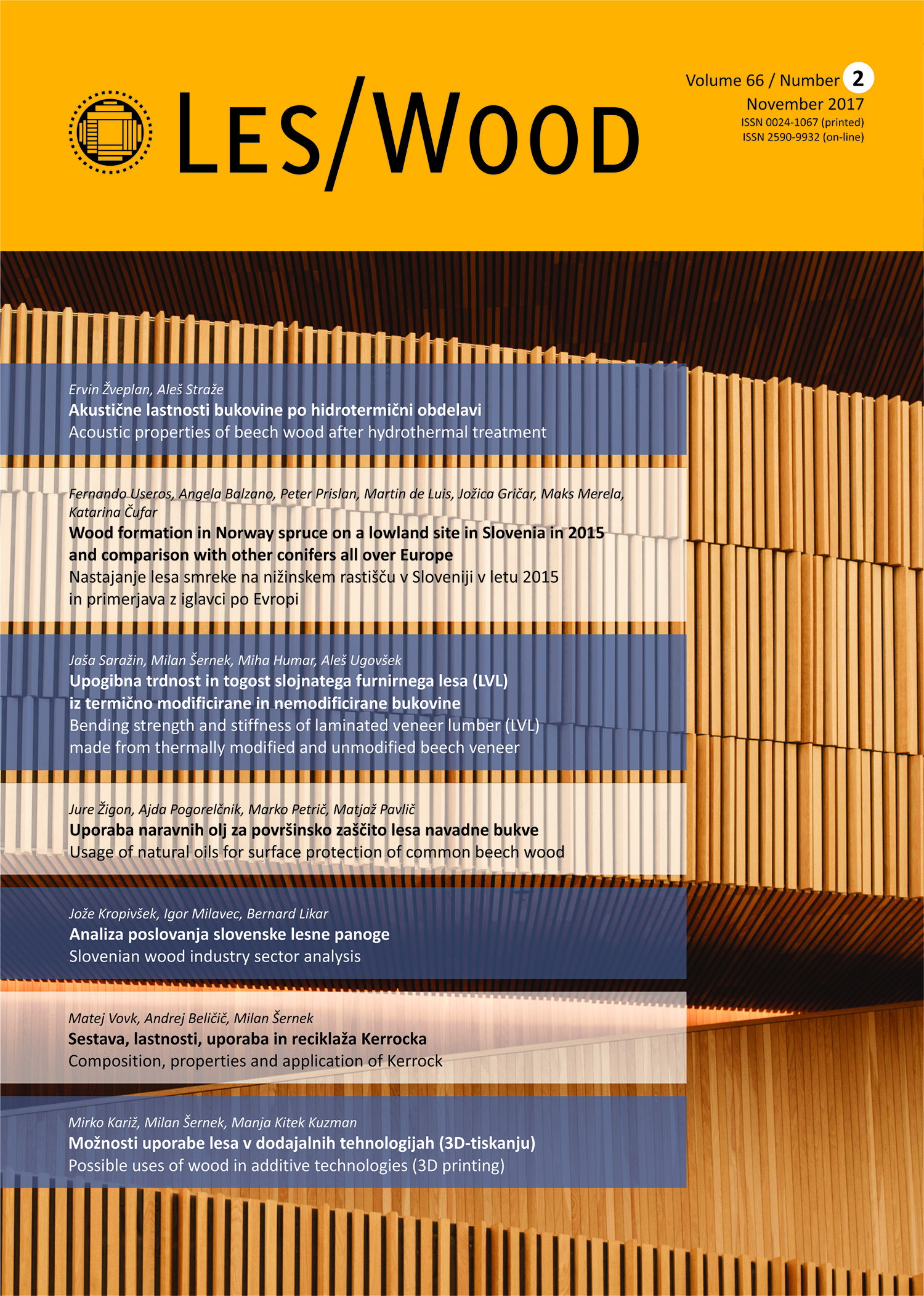 How to Cite
Useros, F., Balzano, A., Prislan, P., de Luis, M., Gričar, J., Merela, M., & Čufar, K. (2017). Wood formation in Norway spruce on a lowland site in Slovenia in 2015 and comparison with other conifers all over Europe. Les/Wood, 66(2), 15-27. https://doi.org/10.26614/les-wood.2017.v66n02a02
Since 2017, Les/Wood has been publishing according to the diamond open access model, which means that all articles are available online to all users immediately after publication. Les/Wood is published under the license CC BY-NC 4.0.
Authors who publish in the journal Les/Wood agree to the following:
- authors retain copyrights and grant the journal Les/Wood the right of first publication with the work simultaneously licensed under a Creative Commons Attribution-NonCommercial 4.0 International License (CC BY-NC 4.0) that allows others to share the work with an acknowledgement of the work's authorship and initial publication in this journal.
- Everyone is free to copy and redistribute the material in any medium or format under the following terms: Non-commercial – you may not use the material for commercial purposes.
Prior to 2017, the sole copyright holder was the publisher: Zveza društev inženirjev in tehnikov gozdarstva in lesarstva Slovenije.