Inorganic pollutants in used windows
Anorganska onesnažila v odsluženih oknih
Keywords:
inorganic pollutants, used windows, cascading use of wood, wood
Abstract
Although the circular economy and use of secondary raw materials are becoming increasingly important, recycled wood is currently still very poorly utilised, with most used to produce energy. One potential sources of recycled wood is old wooden windows. Many wooden windows are now being replaced due to inadequate energy characteristics, while such wood is often still in good condition, without signs of decay. The main problem with the use of wood from used windows for the production of new products is surface coatings. The study examined the influence of age, type and surface treatment on the proportion of inorganic pollutants. First, all non-wood materials were removed from the window profiles. Afterwards, the profiles were cut into the 5 mm thick slides, to measure how deeply the inorganic contaminants penetrated into the wood. The wood was analysed with an X-ray fluorescent spectrometer, and the concentrations of individual inorganic pollutants were determined (Cr, Cu, Cl, Fe, Zn, Pb). The results showed that the concentrations of inorganic pollutants depended on the age of the windows and the surface protection used. This study has shown that used windows can be a raw material for the production of new products and materials, provided that the surface layer is removed before use.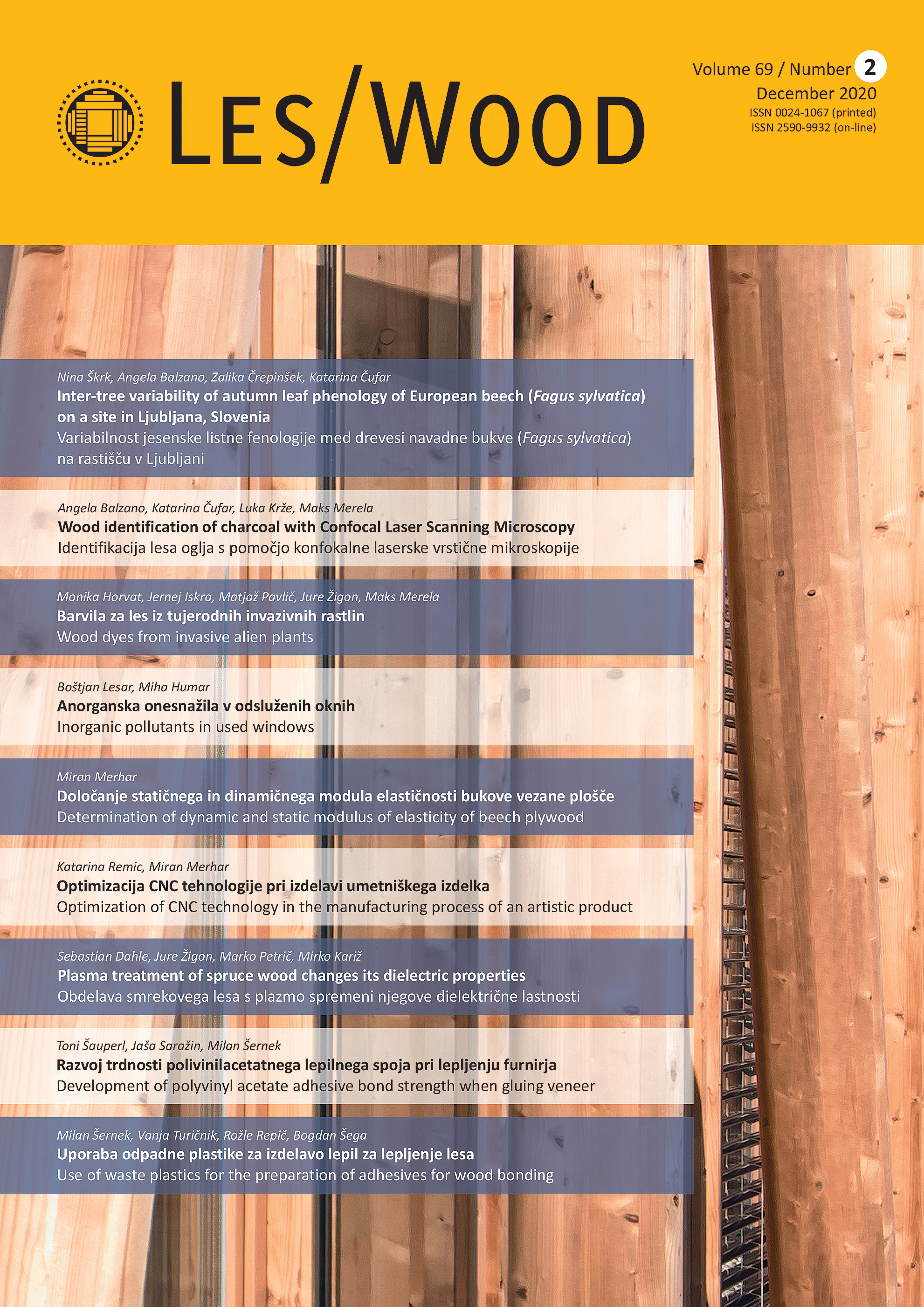 How to Cite
Lesar, B., & Humar, M. (2020). Inorganic pollutants in used windows. Les/Wood, 69(2), 49-57. https://doi.org/10.26614/les-wood.2020.v69n02a01
This work is licensed under a Creative Commons Attribution-NonCommercial 4.0 International License.
Copyright Notice
Since 2017, Les/Wood has been publishing according to the diamond open access model, which means that all articles are available online to all users immediately after publication. Les/Wood is published under the license CC BY-NC 4.0.
Authors who publish in the journal Les/Wood agree to the following:
- authors retain copyrights and grant the journal Les/Wood the right of first publication with the work simultaneously licensed under a Creative Commons Attribution-NonCommercial 4.0 International License (CC BY-NC 4.0) that allows others to share the work with an acknowledgement of the work's authorship and initial publication in this journal.
- Everyone is free to copy and redistribute the material in any medium or format under the following terms: Non-commercial – you may not use the material for commercial purposes.
Prior to 2017, the sole copyright holder was the publisher: Zveza društev inženirjev in tehnikov gozdarstva in lesarstva Slovenije.