Dendrochronology of sessile oak (Quercus petraea) on the transition between the sub-Mediterranean and temperate Continental climatic zones in Slovenia
Dendrokronologija hrasta gradna (Quercus petraea) na prehodu med submediteranskim in zmernim celinskim podnebjem v Sloveniji
Jaša Saražin

Giulia Antonia Resente

Angela Balzano

Martin de Luis

Maks Merela

Katarina Čufar
Keywords:
dendrochronology, tree-rings, oak = Quercus sp., Kozina, Slovenia, dendroclimatology, teleconnection, climate change
Abstract
A local tree-ring chronology of sessile oak (Qercus petraea) was constructed for the site Klanec pri Kozini (KLA), Slovenia (45.59° N, 13.92° E, 450 m a.s.l.) located on the Karst edge on the transition from the sub-Mediterranean climatic to temperate Continental zones. The chronology is 93 years long and covers the period 1925–2017. A comparison with four local oak chronologies from Slovenia and 38 from the surrounding countries (distance 65–220 km) showed that KLA agreed best with the local oak chronology of Rožnik, Ljubljana (ROZ), and two other oak chronologies from central Slovenia (the surroundings of Novo mesto and Ljubljana), one from Croatia and one from Austria. Dendroclimatological analysis showed that the main factor affecting tree-ring variation is June temperature (negative effect) and March precipitation (positive effect), which to a great extent explain the relation to other chronologies. The negative effect of June (maximal) temperature has become increasingly significant in the last few decades, which can be ascribed to warming related to ongoing climatic change.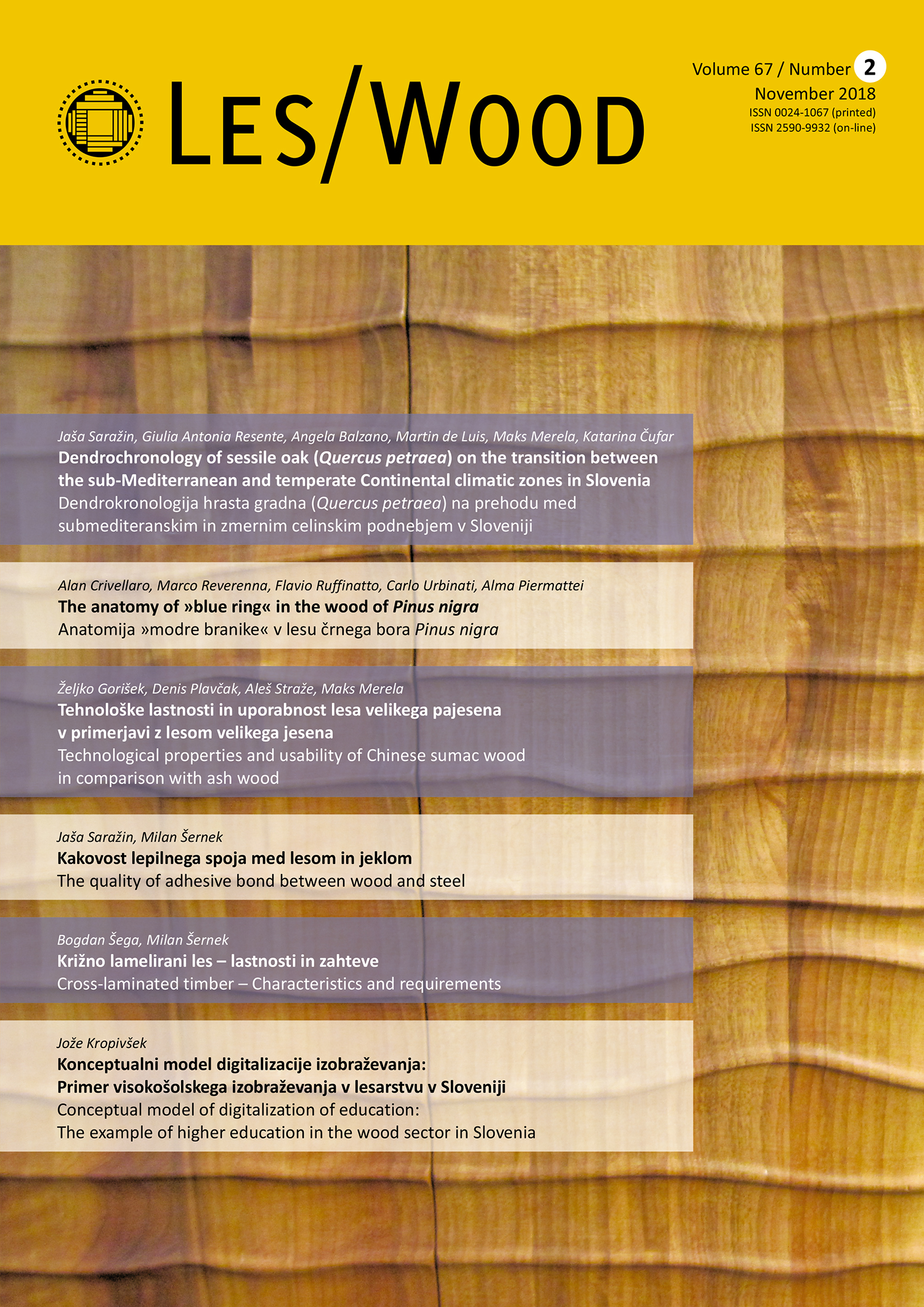 How to Cite
Saražin, J., Resente, G. A., Balzano, A., de Luis, M., Merela, M., & Čufar, K. (2018). Dendrochronology of sessile oak (Quercus petraea) on the transition between the sub-Mediterranean and temperate Continental climatic zones in Slovenia. Les/Wood, 67(2), 5-20. https://doi.org/10.26614/les-wood.2018.v67n02a01
Copyright Notice
Since 2017, Les/Wood has been publishing according to the diamond open access model, which means that all articles are available online to all users immediately after publication. Les/Wood is published under the license CC BY-NC 4.0.
Authors who publish in the journal Les/Wood agree to the following:
- authors retain copyrights and grant the journal Les/Wood the right of first publication with the work simultaneously licensed under a Creative Commons Attribution-NonCommercial 4.0 International License (CC BY-NC 4.0) that allows others to share the work with an acknowledgement of the work's authorship and initial publication in this journal.
- Everyone is free to copy and redistribute the material in any medium or format under the following terms: Non-commercial – you may not use the material for commercial purposes.
Prior to 2017, the sole copyright holder was the publisher: Zveza društev inženirjev in tehnikov gozdarstva in lesarstva Slovenije.